Introduced a fresh perspective to an inefficient customer onboarding process.

Affinity Federal Credit Union
User Research
Information Architecture
UX Flows
UI/UX Design
Interactive Prototyping
Rethinking the digital account opening system
For many banks, digital account opening remains a difficult challenge despite all the investment in digital transformation. Even though digital onboarding remains a strategic objective for banks year after year—with 46% of financial institutions planning to enhance their existing digital account opening services in 2021—few are seeing tangible results.
Most legacy banks invested heavily in the technology that underpins new onboarding processes, but unlike the upstarts, have failed to rethink the processes themselves. That is why they are falling behind, and that is why customers are still failing to complete applications.
To compete with digital banks, Affinity needed to think beyond mere investments in technology and payment platform architecture. They need to focus on customer research and reconcile their internal processes with new customer journeys. That's exactly what a solid digital account opening system is designed to accomplish.
Identifying the pain points
Affinity Credit Union had an involved and lengthy digital account opening experience. On average, it took applicants over 15 minutes to complete the process, though many were abandoning their applications prior to completion.
Applicants not only needed to answer over 16 due diligence questions, but also were required to upload a photo of their driver's license to validate their identity—an additional step that was often exacerbated by technical difficulties. For younger audiences accustomed to quick and easy digital solutions, this process was arduous and more work than it was worth, leading to high dropout rates.
We discovered that
we were losing
35% of users
because our system couldn't
identify the customer,
and a further
35% gave up
at some point in the journey
because it was just too difficult.
Approximately
15% failed
the process and only
15% made it
through to open an account.
Delivered a full onboarding journey review
To address the challenges Affinity was facing, I worked with their team to deliver a frictionless account opening experience with an intuitive funding flow, focusing on the following:
An understanding of the current state of play in digital checking account onboarding and insight into where the market is headed.
Recommendations on how to build a journey more in line with market best practices, considering both features and UI.
A detailed breakdown of Affinity's current journey and where the opportunities lie to enhance it or integrate new solutions.
A view across the market of where best practices lie and how other brands are tackling the common challenges in the space.
Transforming scenarios into user flows
After determining our key personas, I created an overview on the user's possible actions. These user flows focused on scenarios such as opening a checking account, or applying for a credit card, auto loan or mortgage.
Some of the key steps in the digital onboarding process:
Capture customer information
Validate identification
Generate account opening digital documents
Obtain the customer's eSignature
Open the account in real time
Sign customer up for online banking
Issue and mail bank card.
Paper prototyping can be extremely helpful during the early-stage conceptualizing — when a team needs to explore a variety of different concepts and choose the one that will be used.
One key takeaway from this exercise was that a phased approach was recommended to minimize forms and cognitive load by keeping decisions bite-sized. Some of the best practices that were followed: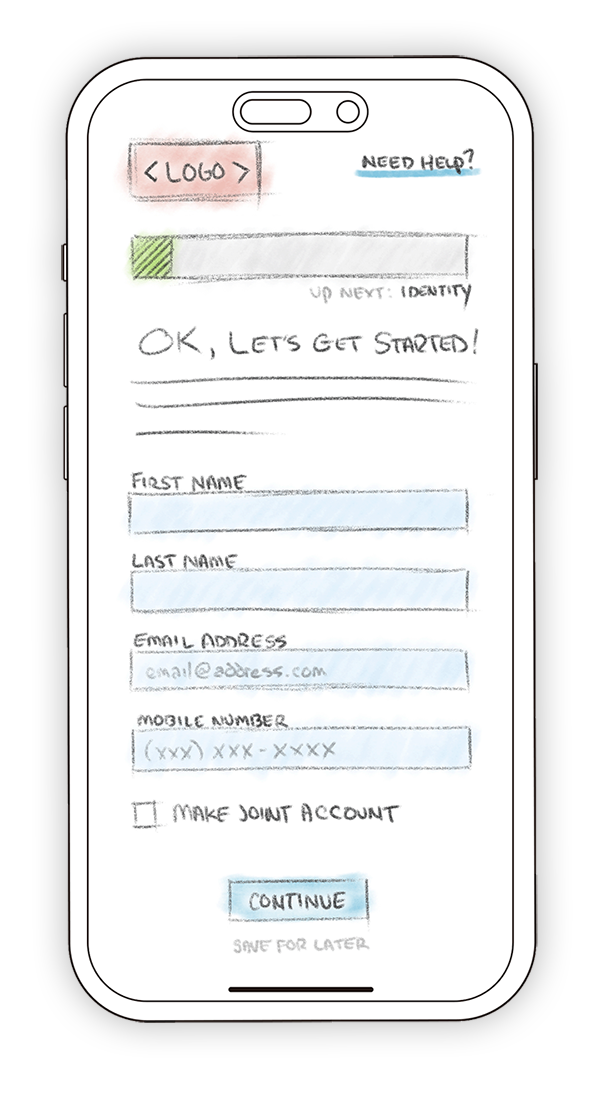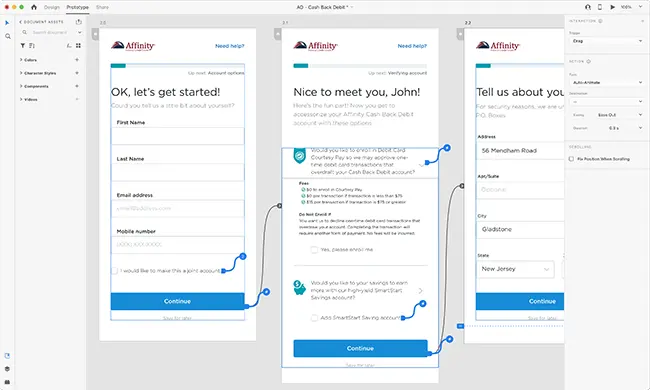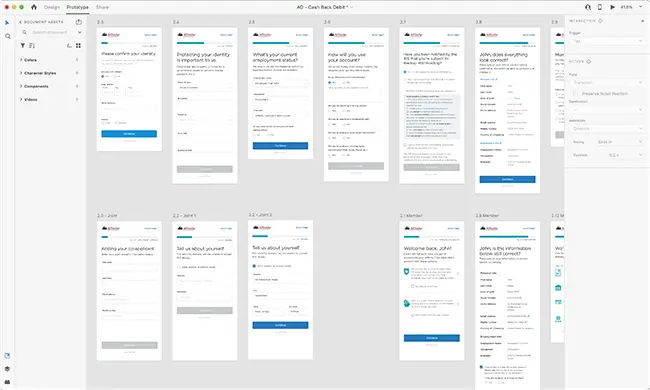 My final contribution to the project was to create a high-fidelity prototype of the account opening user flow. Stakeholders benefited from this stage for the following reasons:
Meaningful feedback. The prototype provided meaningful feedback during usability testing since participants could interact with the prototype naturally (as they would with the final product).
Testability of different elements and interactions. Test specific interactions such as animated transitions and other micro-interactions were easily tested.
Accurate product view and expectations. All stakeholders were provided with an accurate view of the final product.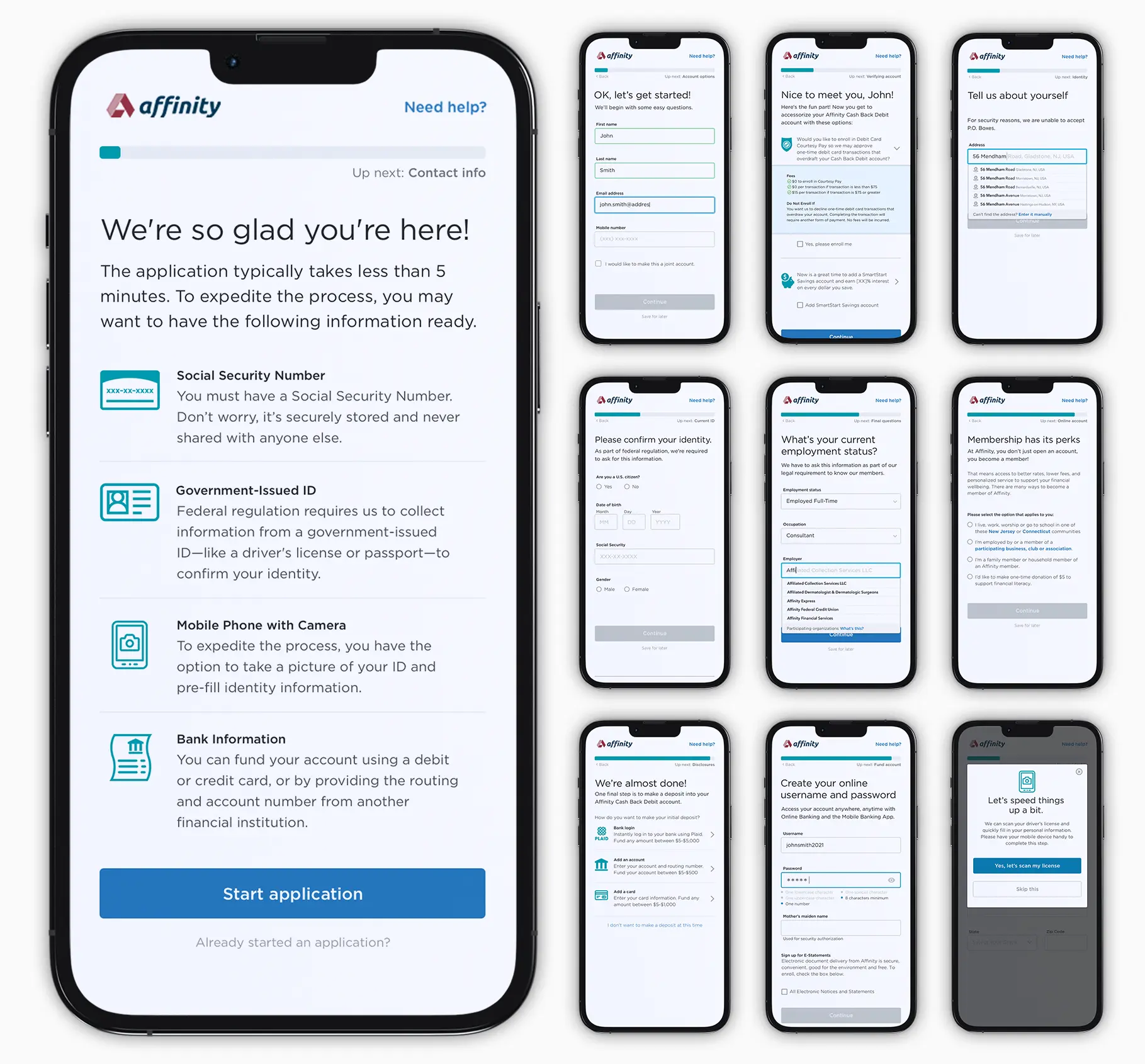 Affinity's digital onboarding initiative stands out for successfully taking on the immense challenge of making onboarding and product/service fulfillment fast, simple, and transparent.
Ultimately, Affinity was able to convert more digital customers into deposit-growing members through a quick, omnichannel, and user-friendly account opening experience, true to their unique brand.
65%
The percentage of customers that ranked the digital onboarding experience an 8 or above on a scale of 1–10.
60%
The percentage of new members Affinity was able to onboard in under 5 minutes by fully automating their process for reviewing, verifying, and approving new account holders.
$573
The average amount that the intuitive funding flow increased initial funding deposits for new members (from $144 to $717).
More stories coming!
I just started posting my work to Storyboardi.ng a few weeks ago (June 2023), and I still have much to do. You can view some additional work by downloading the PDF below.
Case Studies